Rudder bearings are also known as pintle bearings or pintle bushes.
The ideal replacement for traditional bearing materials
BBS Industrie can offer a wide range of composite materials, including Teclite 100MP, which is ideally suitable for producing rudder bearings and deck machinery bearings.
Teclite 100MP is the ideal replacement for rubber and plastic bearing materials. Plastic bearing materials are time consuming to install. The fact that they expand in water means that the material sometimes has to be replaced on site. Teclite 100MP swells minimally in water, and is ready to install without any further engineering being required, so that dry docking can be kept as short as possible.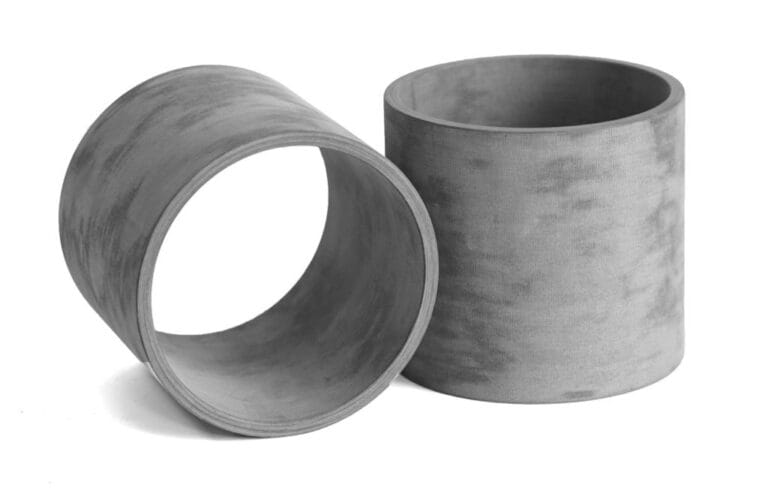 The advantages of composite rudder bearings:
Self-lubricating : Teclite composite functions perfectly without external lubrication.
Dimensional stability : Teclite is also dimensionally stable in a wet environment.
Environmentally friendly : Teclite composite bearings also perform perfectly in seawater without oil lubrication, and require no further additives. As a result, the risk of pollution is completely eradicated.
Very low friction coefficient : The low friction coefficient of Teclite guarantees a long service life for the bearing.
Vibration damping : The Teclite composite material is capable of absorbing shock loads, thereby reducing the risk of damage during use in rough seas.
Wear-resistant : In Teclite bearings, wear particles are washed away, and do not become embedded. The longer service life of the bearing system and higher reliability of the propulsion system makes composite bearings a considerable cost saving.
Ability to compensate for misalignment : If the shaft becomes slightly misaligned, high loads can be applied to the edges of the bearings. Teclite composite bearings will bend slightly, thereby evenly distributing the load across the surface, resulting in reduced wear.
Rapid installation : BBS Industrie understands the importance of a rapid response to a customer request. Teclite material is asbestos-free, easily machined and 1/6 the weight of steel. The bearings can be quickly and easily installed (on location) by cold shrinking or compression fitting.
Designs for rudder bearings
BBS Industrie operates its own workshop with CNC lathes in which we can manufacture bearings according to the specifications and wishes of any customer.
Our experts can also advise you on the design and supervise the entire design process.
Teclite composite bearings are available both as raw tube material and as fully machined bearings ready for installation, in accordance with the customer's specifications.
Civil engineering
Agriculture
Mechanical engineering
Construction engineering
Offshore
Inland shipping
Want to know more about Rudder bearings ?
Together with you, we translate technical challenges into tailor-made solutions. Optimal service is therefore the standard for us. Extensive material knowledge is linked to a broad experience in specific applications. The result? A competitively priced offer and high-quality components and assemblies.
For more information, we can also be reached by phone and e-mail. Tel: +31 (0)10 43 700 65 / E-mail: info@bbsindustrie.com
Ready to Get Started?

GET IN TOUCH