WR252 is a high-quality woven brake lining specially developed for applications such as brake and friction strips on anchor winches, industrial clutches (e.g. cone clutch).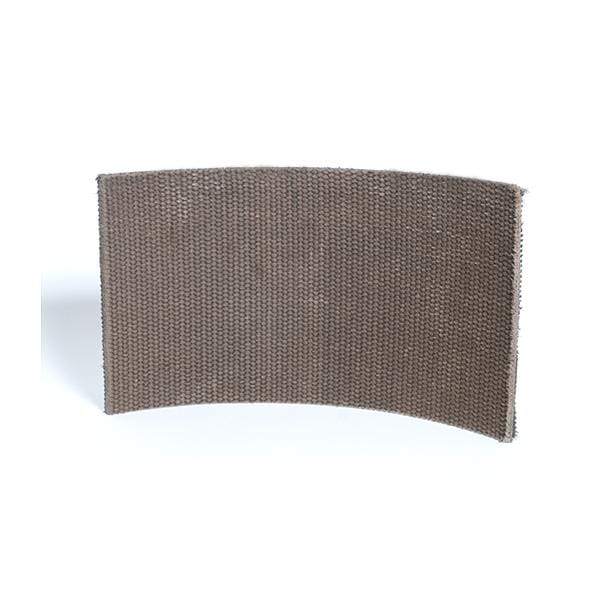 Characteristics of WR252 woven brake lining
WR252 is a semi-flexible, asbestos-free brake lining manufactured from strong woven cotton fabric impregnated with special resins to produce a brake lining that combines strength and flexibility with a high friction coefficient.
This material was designed for low temperatures and high friction. The material offers excellent riveting strength and is suitable for gluing. It offers limited oil resistance and is not recommended for applications immersed in oil.
The most important areas of application are braking systems requiring a very high friction coefficient but in which temperatures are not excessively high. Examples are static winches, bracket systems and cone clutches for hoists.
Characteristics of WR252 woven brake lining
There are different possible installation methods for the brake lining. The most commonly used method is the vulcanisation (gluing) of the brake lining on the brake/friction strips and/or brake shoe. During this process the brake shoes are placed in a high-temperature oven.
For bolts and rivets, the head must be countersunk into the brake lining. This requires the use of a special countersink drill bit.
Brake lining WR252 is supplied as standard on a roll (see below: roll dimensions). It is also possible for us to supply the dimensions you require, cut to size.
Uses of WR252 woven brake lining
Brake/ friction strips
Winches
Industrial clutches (cone clutches)
Offshore applications
Crane building
Mechanical engineering
Want to know more about WR252 woven brake lining ?
Together with you, we translate technical challenges into tailor-made solutions. Optimal service is therefore the standard for us. Extensive material knowledge is linked to a broad experience in specific applications. The result? A competitively priced offer and high-quality components and assemblies.
For more information, we can also be reached by phone and e-mail. Tel: +31 (0)10 43 700 65 / E-mail: info@bbsindustrie.com
Ready to Get Started?

GET IN TOUCH