Polyacetal or Polyoxymethylene (POM) is viewed by the market as a technical plastic.
The term technical plastic refers to plastic materials that are perfectly suited to a particular application thanks to their characteristics. Certain technical plastics have been chemically modified in order to achieve the desired characteristics, so that the product is not only suitable for its specific application but is also simple to process. An excellent example of technical plastic is Polyacetal, or Polyoxymethylene (POM).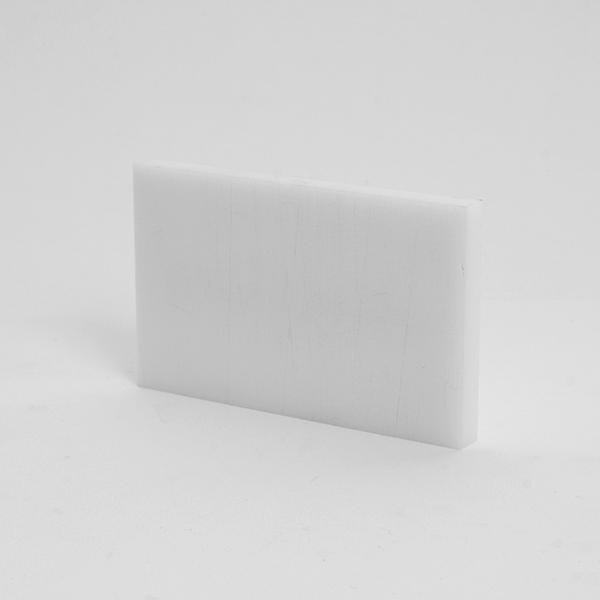 Polyacetal material and polyoxymethylene
Polyacetal or Polyoxymethylene (POM) is above all recognised for its hardness, specifically when compared to Nylon, which in other ways is a very similar material to POM. If you are looking for dimensional stability, POM is preferable to Nylon. It is also far easier to machine. On the other hand, in heavy-duty applications, Nylon offers better wear resistance. Due to its low low friction coefficient and sturdy nature/shape retaining characteristics, POM is often used for parts including gearwheels and sheaves, but also in POM sliding bearings and POM sliding plates. POM can often be used as a good alternative to Nylon.
POM is not particularly UV resistant. Depending on the application, there are plenty of other excellent alternatives for outdoor applications, such as PE 1000 or our Teclite 100 composite bearing material or Teclite 100G composite bearing material.
Characteristics of POM Material
Suitable for the food industry
Attractively priced
Dimensional stability
Vibration damping
Low moisture absorbance 
We can produce tailor-made solutions for practically every specific application from POM sheet material and POM tube / rod material including POM sliding bearings and POM sliding plates.
We also supply unmachined material for clients with their own machining facilities.
Please contact us to ensure you make the right choice of plastic material. Our staff will be happy to advise you on all the possibilities.
Want to know more about POM Material ?
Together with you, we translate technical challenges into tailor-made solutions. Optimal service is therefore the standard for us. Extensive material knowledge is linked to a broad experience in specific applications. The result? A competitively priced offer and high-quality components and assemblies.
For more information, we can also be reached by phone and e-mail. Tel: +31 (0)10 43 700 65 / E-mail: info@bbsindustrie.com
Ready to Get Started?

GET IN TOUCH