Teclite is the collective term for a series of modern composite bearing materials. In the world of sliding bearings, Teclite sliding bearings and spherical bearings represent a perfect maintenance-free alternative for lubricated metallic/bronze bearing systems.
Teclite 100M composite sliding bearing material is composed of finely woven fibres that are impregnated with polyester resins. The physical and chemical characteristics of the Teclite composite material can be influenced to meet the needs of specific applications. The high load-bearing capacity, wear resistance and self-lubrication characteristics, together with the anti-corrosive behaviour of these maintenance-free composite materials mean that Teclite composites are ideally suited for the most challenging movement-related applications.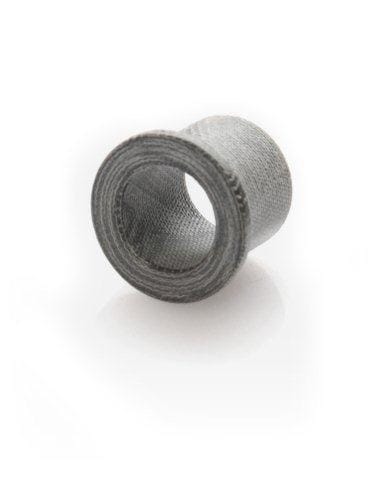 Teclite 100 sliding bearings
The resin in the Teclite 100 sliding bearing material is mixed with additives to improve the mechanical characteristics, in particular the friction coefficient. The physical and mechanical characteristics of the Teclite 100 sliding bearing material make it the ideal bearing material for self-lubricating bearings, for both dry and wet conditions, in which wear-resistant characteristics are required, in very demanding conditions.
Our composite tube and rod material is available in several variants: each variant has its own unique characteristics to meet the needs of a specific application. Our stock range of composites are suitable for use in most conditions. In addition to Teclite 100, our range includes:
Please contact us to ensure you make the right choice, or for more information about our composite materials. Our staff will be happy to advise you on all the possibilities.
We can produce tailor-made solutions for practically every specific application from sheet material and tube / rod material. We also supply unmachined material to clients with their own machining facilities.
To guarantee the perfect performance of composite bearings, correct assembly is essential, with the perfect dimensions. To ensure the correct bearing dimensions, we carry out technical calculations to determine the perfect fit and end play, according to the customer's shaft / mortice and tenon / housing sizes. We can offer support during installation and on request will provide full assembly support
Offshore –  Drilling rigs
Inland shipping – Vessels
Civil engineering – Bridges/locks
Agriculture – Hydraulic systems
Mechanical engineering – Food industry
Construction – Cranes 
Want to know more about Teclite 100m ?
Together with you, we translate technical challenges into tailor-made solutions. Optimal service is therefore the standard for us. Extensive material knowledge is linked to a broad experience in specific applications. The result? A competitively priced offer and high-quality components and assemblies.
For more information, we can also be reached by phone and e-mail. Tel: +31 (0)10 43 700 65 / E-mail: info@bbsindustrie.com
Ready to Get Started?

GET IN TOUCH